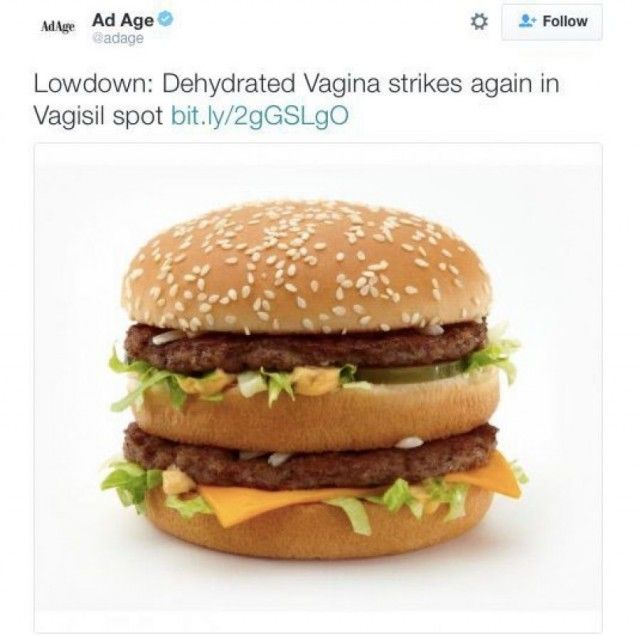 Got your attention, huh?
Well, the pairing also got the attention of many Twitter followers who saw a social media faux paus on the Twitter page of a publication that typically preaches what social media professionals SHOULD and SHOULDN'T do.
The error appeared on the Twitter feed of Advertising Age magazine and featured a blog from the publication in which the title of one article was mistakenly matched with the photo from another resulting in the pairing of Vagisil and Big Macs. Hmmm. A new marketing idea? Probably not. You can see it here: Lowdown: Dehydrated Vagina Strikes Again in Vagisil Spot http://adage.com/article/cmo-strategy/lowdown-vagisil-takes-dry-vaginas-ad/306954/.
The most interesting thing about this communication conundrum is that although many followers pestered Ad Age to take it down and realize their error, they didn't. In fact, they took the high road opportunity to regale their readership online and offline with the observation that social media outrage is overblown. Ad Age took it in stride, saying "We realize the tweet about the Vagisil ad pulled in the wrong image. Enjoy the laugh at our expense."
They then pointed out that a social media post is not the same thing as an action – just like a tweet from Donald Trump is not the same thing as a policy statement or a bill. They argue that words do matter but people will get over it as soon as the next online outcry, police chase video or cute puppy photo appears on the social media landscape.
As marketing professionals, we agree.