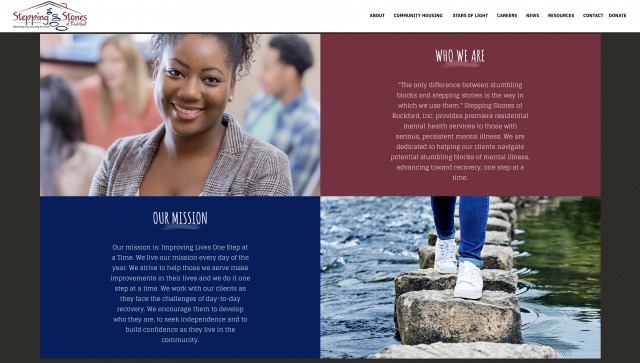 KMK Media Group, a Rockford-based marketing communications firm, launched a website for Stepping Stones of Rockford, a non-profit serving those with mental illness in the community. The organization is celebrating 50 years providing mental health resources in Rockford.
The new website, https://steppingstonesrockford.org, explains available mental health services and housing resources in the Rockford area, allows web visitors to make online donations and incorporates timely blogs. The site also allows web visitors to track the location of "kindness stones" they find around Rockford, placed by Stepping Stones to celebrate its 50th anniversary and raise awareness of mental illness in the community.
Stepping Stones of Rockford is located on North Main Street in Rockford and serves more than 160 clients per year with varying levels of support ranging from counseling to residential services.
"Stepping Stones is an asset to our region, providing dozens of people each year with the support they need to maintain jobs and lead productive lives while living with mental illness," said KMK CEO Pam Maher. "It is a pleasure to help promote what they do."