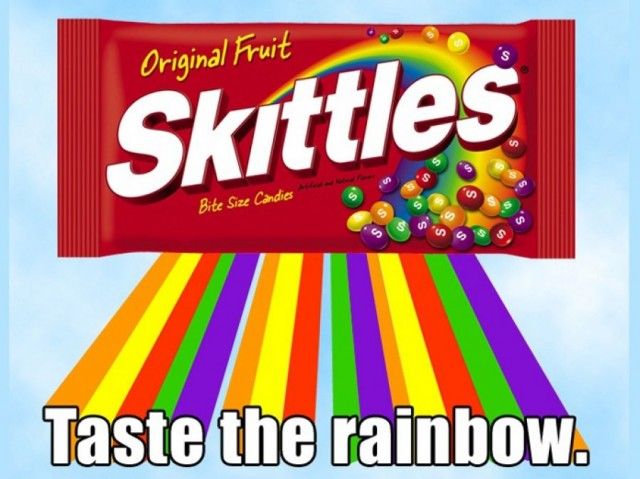 If you are familiar with Skittles, then you are probably familiar with their long-running line of edgy and absurd commercials.
Skittles has been pushing boundaries and possibly taste levels with their commercials ironically featuring the tagline "Taste the Rainbow" for almost a decade. While kids and adults alike consume Skittles, their commercials employ weird and abstract humor some adults might struggle to understand.
The commercials go back as far as 2008 with odd classics such as piñata man in "Chocolate the Rainbow" (http://bit.ly/2qs3AHB) and the miserable man with the Skittles touch in "Touch the Rainbow" (http://bit.ly/1E3K9I7). Skittles continued to evolve in bizarreness when they released a series of sensory commercials that included the YouTube viral hit "Lick the Rainbow" (http://bit.ly/1o82I40).
While Skittles commercials may have left people scratching their heads over the years, it's hard to argue with their success at garnering an audience just based on their online presence alone. Skittles has continued to grab the attention of consumers with recent gems "Trap the Rainbow" (http://bit.ly/2qsJJIZ) and "Settle the Rainbow" (http://bit.ly/2qS8xLt), but it is their latest commercial that has many people asking, "Have they gone too far?"
Just this past Mother's Day weekend, Skittles released the commercial "Cut the Rainbow" and I must warn you that it is disturbing. The ad features a mother and grown son connected by an umbilical cord enjoying Skittles together. The question remains, is the most recent Skittles commercial still considered good advertising due to its effective attention grabbing and having gone viral or is it just in bad taste? For those of you brave enough, you can watch the video here – http://bit.ly/2pnufq5.