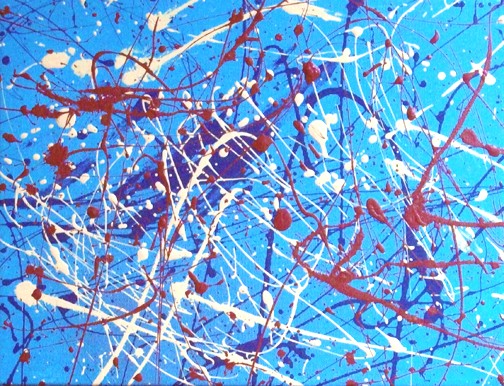 Ever see those jumbled up paintings?
You know the kind where there are always at least three people standing around staring at it with one saying, "I don't see anything. You're both nuts."
And another responding, "What do you mean you don't see it? They're right there! Three dinosaurs! Just stare at it for a while, you'll see it."
And the third person loses countless hours staring…and staring…and staring…
Well, that is art. I was once asked in art school, "What is art?" Some students had answers, others looked either scared to respond or hoped they wouldn't be called on. The professor answered, "Art is what you want it to be. It is what the eye perceives. I can hold up this pencil and call it art because I say it is."
There are some very good points to that. Case in point: Picasso. Great artist but I just don't understand the whole cubism, 2 eyes on one side of the face and blue period thing. I will walk right through his display at museums just shaking my head.
I was always a realist. I have always loved Norman Rockwell. He painted real life and you could tell what it is. Grant Wood, Monet, Manet and if you got me in front of Georges Seurat's "Sunday Afternoon on the Island of La Grande Jatte," you would need to pull me away.
I find the style of Jackson Pollock so interesting! Many see it as one of those "Dinosaur paintings." You either see it or you don't. I painted a large canvas teal and purchased pints of red, yellow and blue and some latex gloves. I laid it out on the garage floor, gave my girls gloves and told them to reach in and splatter on the canvas. I soon found myself explaining to them how to splatter it and realizing there really is a thought process in this. What colors complement each other, which should be more dominant, what direction they should be in, which gets more emphasis, and so much more. So I created a variety of my own versions and spin-offs of them.
One of my daughters was taking an art history class in college and called me one day saying, "Dad, we are studying this guy named Pollock and there is a picture of one of his paintings. It looks like yours but yours is better…you can make a fortune!"
Pollock was known to be an alcoholic and suffered depression. Some due in part with his constant competition against Picasso for recognition. I personally believe the craziness is what sparks our creativity. Nobody ever says, "Yea, I hear he was a very normal person" when speaking of an artist. I never claimed to be "normal" either, but I am inspired. Every day.