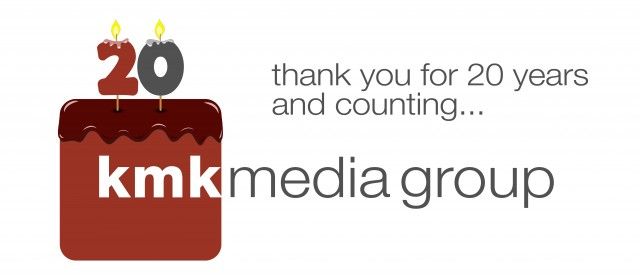 KMK turned 20 this month. Doesn't seem like that long ago when I say it out loud but when I look around, things sure look different.
Back then, when we produced TV commercials for clients, I'd get in the car and run out to the TV stations to drop off a video tape copy to each one. It got me out of the office and feeling productive, mentally hitting the "done" button when I'd finished my media trek to the west side of town. Not the same feeling today after I email the link to some "cloud" somewhere, hoping it arrived safe and sound.
What I have learned in 20 years is the more things change, the more they stay the same. (My dad used to say that and I never believed him. Until now.) It's really all about understanding the message that needs to be communicated. Whether on TV or online or somewhere in between.
That's where KMK shines.
We're a small group of really creative people committed to getting our clients' message in front of the right audience, no matter the medium. Medical, industrial, educational, governmental...it doesn't really matter what industry. The basics of communicating "why you need that product or service" remain the same for our team.
People hire us and rehire us. That's how we've been in business for 20 years.
That, and obviously all of the money we saved in gas by no longer having to run tapes out to the TV stations.