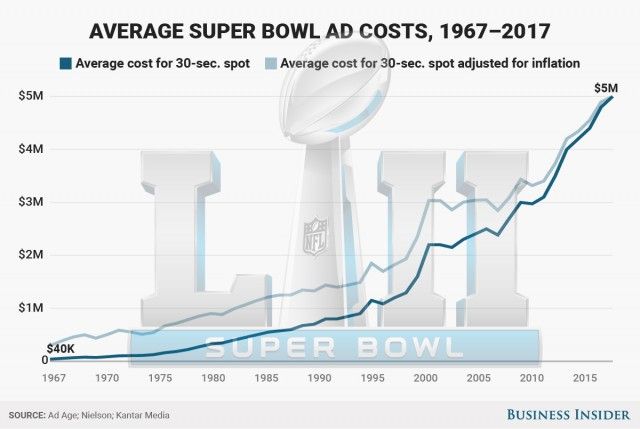 Okay. I admit it. I don't really "watch" the Super Bowl. I watch the TV ads. And that's what I'll be doing this Sunday evening as I scurry to get dinner together for our family during playtime until my husband calls me back to the TV when the commercials start.
It's our business at KMK to keep track of national trends in advertising and, from what I've gathered, this year's TV ads are supposed to be tear-jerkers overall. I look forward to the story-telling, to the TV spot that makes you scratch your head and wonder why in the world an agency convinced a company to waste gobs of money on it, and to the commercials that you know are going to be memorable for many months and years to come.
I also marvel at the obscene amount of money national companies spend to have their moment in the spotlight (a very fast 30 seconds of fame) and hope they're tracking the return on their investment.
Super Bowl LII is a big game investment for TV advertisers. Here's the breakdown:
The average cost for a 30-second commercial in Super Bowl LII is just over $5 million.
That equates to a price per second of $168,333. Blink and you missed $168,333.
Total spending on ads during Sunday's NBC Super Bowl broadcast will run approximately $419 million.
Marketers have spent a total of $5.4 billion on Super Bowl ads over the last 52 years.
The average cost of a 30-second TV spot in the 1st Super Bowl in 1967 was $40,000. ($300,000 adjusted for inflation)
Wow.