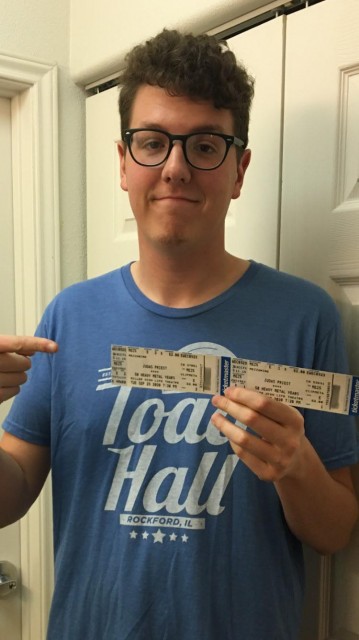 In early August, concert promotion and ticketing company Live Nation Entertainment reported a 98% drop in second quarter revenue compared to last year. Because of this year's COVID-compromised concert season, there have been thousands of refunded tickets and postponed concerts (including my postponed Judas Priest tickets you see here), causing Live Nation to report a loss of $86 million in ticketing for the quarter. While pop stars and concert arenas can most likely survive financially until their next show, small artists and venues are still scrambling to come up with innovative marketing ideas to keep their instruments in hand and their doors open.
At first, drive-thru and socially-distanced concerts seemed like a solution. It reduced the likelihood of infection and still retained some of the feeling of a live show. However, their popularity quickly declined once venues realized they were losing money even with reduced crowds and that not many concertgoers wanted to sit in their cars to see their favorite artists. Some artists just ignored the virus and played shows as if life was normal. While that is definitely not the right solution, there have been plenty of successful marketing ideas that are keeping fans, artists, and venues satisfied while they anxiously await their rescheduled dates.
BANDCAMP FEE WAIVER
Bandcamp, a website that allows independent artists to sell their own music and merchandise, has been waiving fees on the first Friday of every month since the pandemic started. With no fees being taken from an artist's sale, Bandcamp is ensuring that all fan-produced revenue is going directly to the artist. This has become a popular marketing message point on social media. When the first Friday of the month is near, my Facebook newsfeed is filled with small artists advertising the fee waiver and asking for fans' support. It's working too. On March 20, the first day when fees were waived, fans spent a total of $4.3 million on the website, 15 times more than a normal Friday.
VIRTUAL CONCERTS
While no one expected virtual concerts to be a replacement for in-person concert experiences, they have been popular options for artists big and small. Utilizing Facebook, Instagram, and YouTube, artists have been playing livestreamed sets for fans to enjoy from the comfort of their homes. For 21 weeks, Rockford favorite Miles Nielsen and his wife Kelly Steward have been performing what they've dubbed "Quaranstreams," 60 to 90-minute-long sets livestreamed on Nielsen's Facebook page for over 3,000 fans. While streaming, similar to other virtual concerts, Nielsen and Steward promote their merchandise and share links to their PayPal and Venmo accounts for anyone interested in giving a tip. Based on the happy comments and high viewership, it's safe to say that the "Quaranstreams" are successful while also maintaining aspects of the live music experience like tips and merchandise.
COVID MERCHANDISE
Speaking of merchandise, artists have gotten creative with new COVID-inspired products to sell to fans. Just about every major artist has their own branded facemask now, but there are some other products that stand out from the crowd. KISS, the undisputed kings of artist branding, created a Stay At Home Tour shirt, the proceeds of which are donated to the Global Relief Fund For Live Music Crews. Wu-Tang Clan quickly sold out of their "Protect Ya Hands" hand sanitizer to benefit the homeless. For each bottle sold, the group donated a bottle to the Ottawa Mission Foundation and donated additional profits to other homeless shelters in Canada. However, the title for "Best COVID Band Merch" goes to Devo and their energy dome face shield. When a problem comes along, the face shield will protect you in case someone has to sneeze and whips it your way. All lyrical puns aside, creative marketing like this is the best way for bands to make a living with no shows on the horizon. According to Dell Furano, CEO of Live Nation Merchandise, touring artists typically earn between 10 and 35 percent of their revenue through merch sales.
AT-HOME CONCERT KITS
While artists have found no shortage of ways to stay afloat during the pandemic, the situation is trickier for venues. They rely on ticket, food, and merch sales, parking fees, and sponsors to make money. With no artists performing and no fans to host, music venues all over the world have no source of income. One creative solution to this problem came courtesy of The Sylvee, a small venue in Madison. They sold out of their "Concert in A Box," a packaged live music experience that was introduced in late May. For $25, music lovers would get a six-pack of beer (from available options), a bandana branded with several Madison venues, a pair of koozies, a Sylvee sticker, a quarantine postcard, and a commemorative ticket stub. Plus, you could add on a $50 or $100 gift card for a discounted price. Similarly, The Rave in Milwaukee is selling a "Concert Comeback Kit" featuring a $50 gift card and a Rave branded shirt, drawstring bag, facemask, and refillable hand sanitizer bottle. These packages are great ideas for bored concertgoers. They get the merchandise now, and they get to look forward to using their gift card for an upcoming show.
While fans all over the world receive the disappointing news that their next concert was postponed or cancelled, they have plenty of ways to support their favorite acts. We've seen that desperate times have brought out creative marketing ideas (and that bands will continue to put their name on anything they can). If we want the live music industry to have a bright future, it's important to support artists and venues now.