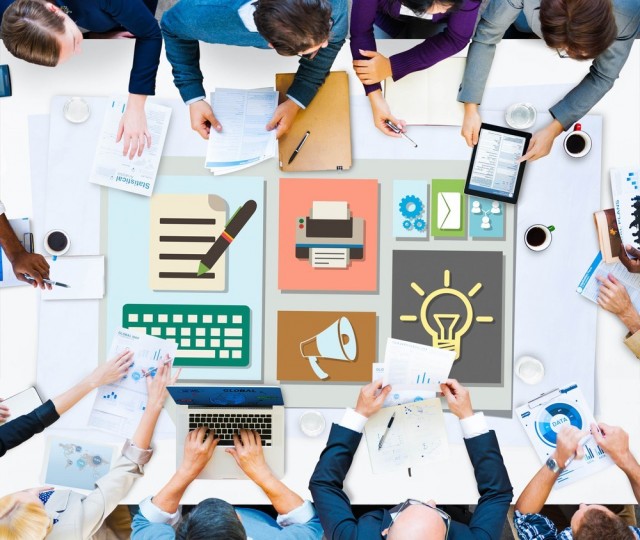 So, you're looking for a firm to handle your creative and communication services... but where do you start? How do you know if one firm is better suited for your company compared to another? Selecting a firm for your specific needs is unlike most business purchases. The choice will ultimately affect consumer perception and any future business.
As a firm that has successfully handled hundreds of clients over the past twenty years, we can give you a little insight on the work it takes to hire an external addition to your creative team.
WHAT & WHEN
Before reaching out to a marketing communications firm, determine a set of objectives your business is looking to accomplish. Sometimes it goes beyond needing a new website or increasing public relations. A set of creative professionals can help you meet your objectives by giving viable suggestions that will aid in your business's success.
Second, set a deadline. Keep in mind, different projects require more time than others. Allow for more than ample time for production. Extra time helps accommodate review sessions and a few rounds of edits that will likely occur.
Before diving in, set a budget. Continue to be upfront about your budget when meeting with agencies. A budget will let them know what they have to work with and allow for an honest conversation on whether or not your budget is reasonable. Be prepared to potentially scale back your wish list or increase your budget, as needed.
RESEARCH
You have your objectives, deadline and budget in order. Now what? Research! Ask trusted vendors or business friends who they use, and are they happy with the work, response time and results? Check out those providers online. Take a look at past work, their client list and the services they can provide. It's less stress and hassle to use one firm who can handle all of your creative needs rather than having to work with several and then make sure everything looks and sounds consistent. Don't be afraid to reach out to current and past clientele to get a feel of what it might be like to work with them. Just like any member of a successful team, culture and a "good fit" are key.
MAKE CONTACT & ARRANGE AN "INTERVIEW"
Start your relationship with an email – make the email appear personal to avoid looking like you're doing a mass solicitation (even if you are!). Communicate your objectives clearly as well as if you have particular services in mind. Then suggest a time to get together.
DO NOT ISSUE AN RFP (Request for Proposal). Buying creative services is not like buying nuts and bolts, a copy machine or office furniture. One size does not fit all. You will have an ongoing relationship with your creative vendor of choice so need to talk to them, meet the team members and make sure there's a good fit. An RFP doesn't work well for this type of purchase.
Once your meeting date is set, list questions that will allow you to understand the firm better, including past projects, communication skills and timeline capability. Don't be afraid to ask the tough questions! The more a firm is able to effectively communicate with you, the more likely you'll be able to work with them long-term.
COMPARE PROPOSALS
Be cognizant that proposals may take several days to receive once you've met. The amount of work has to be estimated, as well as a firm's availability to fit you into their workflow. When making comparisons, be aware of proposed production processes and timing. If you see significant differences between candidates, don't be afraid to ask questions that can provide comparisons on similar terms.
While price is the most obvious comparable factor, be sure to compare beyond that. The phrase "you get what you pay for" may stick with you, but a high price doesn't always mean high quality. Keep in mind that what is most critical is in the value of what you're paying for.
---
You did it! Don't be afraid to communicate concerns as they arise. Communication between client and firm is key to creating stellar content that will drive business through the door.
Contact KMK Media Group to see how we can help you meet your objectives by emailing This email address is being protected from spambots. You need JavaScript enabled to view it..