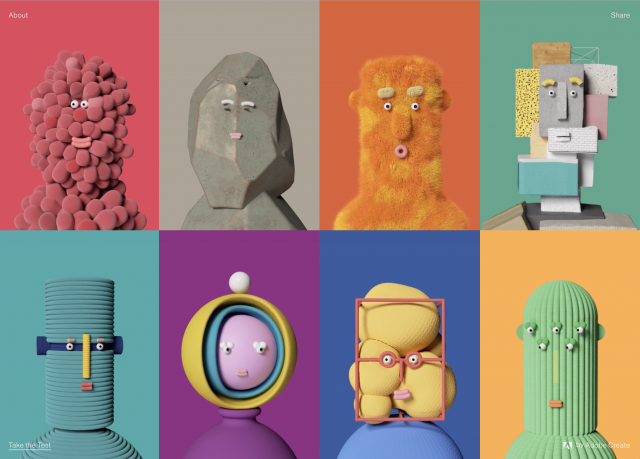 What's Your Creative Type?

While working in the creative industry, you will inevitably encounter all kinds of creative personality types. When given a task, creatives have their own way of approaching it, executing ideas and problem solving. Their own style. It's often said that creatives "think different" as Apple coined the phrase in 1998, during its campaign, urging its audience to do just that. But what does that mean? Adobe's Create magazine, devoted to graphic design and communication design, developed a quiz to help shed light on those "creative" personality types.

Adobe explains it this way: "The Creative Types test is an exploration of the many faces of the creative personality. Based in psychology research, the test assesses your basic habits and tendencies—how you think, how you act, how you see the world—to help you better understand who you are as a creative..." Its goal is to help you better understand yourself and how you work best with others.
Adobe explains that these personality types aren't black and white labels and many people may have more than one core type or the type can change during the creative career. After reading that, my curiosity was peaked! What would this test say about me? What would it say about my teammates? Only one way to find out! I challenged my KMK teammates to take it, and when I took it, the results were spot-on!

While no one fits perfectly into any one characterization, it does help you discover the overriding slant of your creative being! The test also suggests the other creative types best suited for personal collaboration and learning.

ADOBE CREATE'S CREATIVE PERSONALITY TYPES:
The Artist: Seeing beauty, creating beauty.
The Thinker: Deep thoughts, big questions.
The Adventurer: So much inspiration, so little time.
The Maker: Committed to your craft.
The Producer: Process is power.
The Dreamer: The power of imagination unleashed.
The Innovator: Move, shake, disrupt, repeat.
The Visionary: Imagining the impossible.
The Results?
Our KMK team is diversified among thinkers, makers, producers, dreamers and visionaries. It's a good mix of innate creative traits and external problem-solving skills to drive our ideas while balancing it with results for our clients.

Want to discover what creative type you are? Check it out: https://mycreativetype.com/