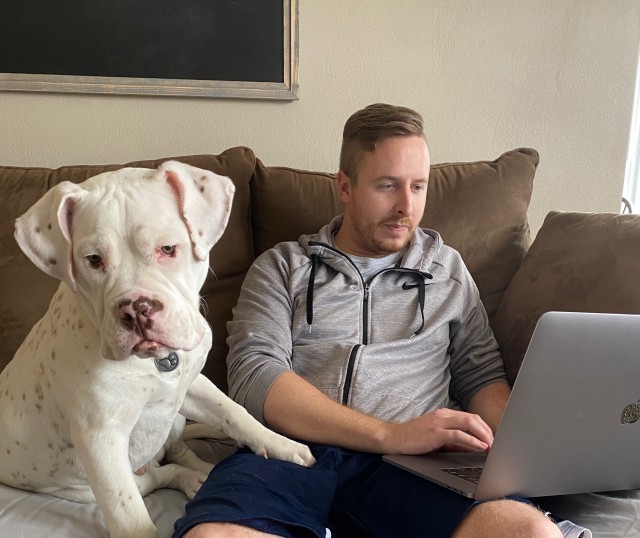 Working remotely can present challenges and obstacles if you're not used to it... especially when you're a part of a creative team like KMK. We've taken the last 4 weeks of quarantine to hone in on the tips and tricks that work for our team!
Lots of Virtual Meetings
Every Monday, KMK staff members hop on a virtual staff meeting to go over the past week, provide updates on projects and get a look at the week ahead. While this is the only company-wide meeting we have each week, team members are breaking off in individual virtual meetings to chat about projects as well.


Be Available and Respond Quickly
When you're in the office, it's easy to run to your neighbor's office to see if they had a chance to look at your email... working from home makes that a little more difficult. Make sure you're available to answer phone calls and emails in a timely manner. Our rule of thumb at KMK is 30 minutes!


Stick to a Routine
Is your favorite part of the workday popping a k-cup into the Keurig to brew your morning cup of coffee? Used to eating lunch at noon? Keep it up! Just because you're working from home now doesn't mean you have to sacrifice your favorite parts of the day.


Don't be Afraid to Pick Up the Phone
If you feel like it would be easier to talk through a project, task, or just have a question you feel can't be conveyed properly through email, don't be afraid to pick up the phone to call your coworker... they're on the clock, too!


Set Goals and Crush Them!
Staying on task while working from home is, understandably, harder for some. An easy way to keep projects moving along is to set project goals, big or small! Set reminders in Outlook or a common project space like Basecamp or Slack.


Bring Your Pet (or Kid) to Work!
Just because we're working from home doesn't mean that life stops from 9-5... We have kids and pets and, dangit, they want attention just as much as our clients do! If your coworker's dog decides the 9 am conference call is the best time to sing the song of its people, use it as an opportunity to connect with your coworker instead of criticizing.


Check Your Internet Speed
If your internet seems slower than usual, check your routers! KMK Communications Specialist Sarah Mitchell thought it was her provider, but after further investigation, found out her router needed replaced! Now she's up to speed (get it... internet speed)!