KMK Marketing Blog
In today's fast-paced digital world, marketing has become an essential component of any business strategy. Our team of marketing experts has years of experience helping businesses of all sizes achieve their marketing goals and is excited to share the best tips, strategies and tactics to help you succeed.
Top Video Marketing Trends for 2023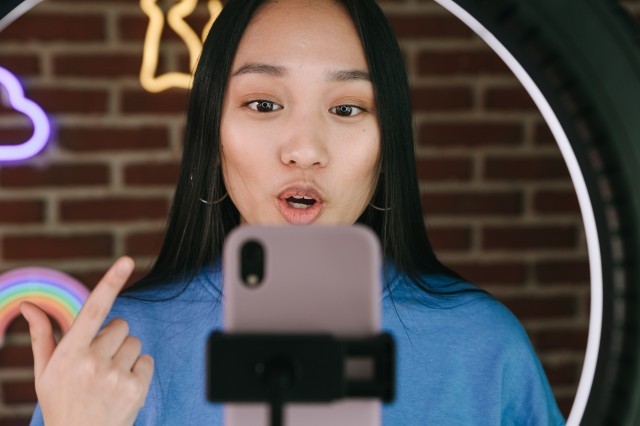 First video came for the radio stars and now its coming for your marketing plan. Just kidding! It's already here. The rise of social media platforms like Snapchat and TikTok continues to alter the marketing landscape – even if you don't choose to promote your brand on these Gen Z-skewed platforms. The proliferation of videos from these newcomers has filtered down to Facebook and Instagram and has users primed to respond to video content and, more importantly, is being favored by the all-powerful algorithms.
We've established that video is a must for your digital marketing plans, in fact, you're probably already creating video content and are ready to stop reading and move on with your day. DON'T! Yes, video has been around for a while, but the landscape is everchanging and what worked last year might already be dated.
Read on for the top video trends for 2023!
Flip Phones
You need to meet your audience where they are, which is on their phone. Recent studies found that 99% or 4.43 billion social media users access networks using a mobile device and 78% or 2.97 billion users access networks exclusively on their mobile phone. Every platform now features vertical video, from Instagram reels to YouTube shorts to Snapchat and TikTok. If you want to create compelling video, the first step is rotating that camera.
Live, from… wherever
Demand for video content is up in general, but live video earns more engagement. On Facebook, for example, users watch live videos for 3x longer than pre-recorded videos, and live content generates 6x more interactions. One of the many enduring shifts that came out of the pandemic is the popularity of live content. Turns out people like the feeling of real-time, digital connection even when it's not government mandated. Live videos can be used in numerous ways, including sharing live events, taking your followers behind the scenes of your business, hosting interviews with industry thought leaders, educating your audience on products or services or holding a Q&A session.
Optimize, Optimize, Optimize
SEO is likely already a big part of your marketing strategy (and if not, it really, really should be), but are you applying that same logic to your video content? Videos are 53 times more likely to generate first-page rankings than other traditional SEO techniques. First, make sure your video content is relevant to your audience and your brand, and if its entertaining, even better! Like with all SEO, consistency is key and making sure you're regularly publishing content to your website to drive traffic. Last, optimize your title, tags, and keywords. Then, sit back and watch your page-ranking rise.
Get Personal
All branding gurus will tell your that brand storytelling is crucial to connect with your consumers and establish your brand personality. But what does that actually look like? Well, vlogs are a great place to start. Vlogs (literally, a video blog) allow you to share topics, events, and experiences from your brand's perspective. And highlighting your brand's personality will result in a more loyal audience. In a recent Lemonlight study, 94% of respondents say that watching a brand video has helped them make a purchase decision. KMK Media's recently completed video for Illinois Bank and Trust's Golf Play Day could easily be viewed as a vlog – a visual record of a great day!
Put the Social in Social Media
If the above ideas have you nervous, this one should put you at ease. Social media stories serve to highlight your brand personality without any of the commitment. Have something cool going on in the office (but are still unsure about live video)? Record some quick footage on your phone, or even just snap some pics and upload it as a story. It's quick, easy and the best part is it'll be gone within 24 hours so you don't have to worry about a permanent reminder of your content before you became a video marketing expert. Plus, it's a perfect way to maximize the social benefits of social media, from polls to Q&As to sharing posts in which you're tagged by your customers.
Shhhh….
I won't tell your boss, but I know you've scrolled through social media channels when you were supposed to be working. How? Because everyone does! Which is probably a contributing factor to why 85% of videos on Facebook are watched without sound. This doesn't mean you need to break out a mustache-twirling villain and a damsel tied to the train tracks – it just means you need to add some captions. People watch captioned ads for 12% longer on average than videos without captions. Facebook offers its own free auto-captioning service and there are many other free options online. Or, you can create the captions yourself and make them a visually interesting part of the video like we did with our recruitment campaign for Fehr Graham, a multi-state engineering firm.
And now you are ready to go out and create great, relevant, on-trend video content… at least until next year's top tips are revealed!